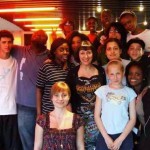 The focus of my work in the arts is participation and learning. A producer and educator, I work with artists and communities to create memorable experiences. I have developed pioneering creative organisations that place young people's participation at the heart of their vision.
I support arts companies and other cultural organisations on strategy, development, creative learning programming, producing and evaluation, e.g. Wellcome Collection, Rio Occupation London with People's Palace Projects, Oily Cart Theatre, Rajni Shah Projects,  Blink Margate with McMcArts, Royal Opera House, Frantic Assembly and A New Direction. In 2009 the Wellcome Trust commissioned me to produce Evolving Words with poets, scientists and young people as part of Darwin200. Recently I directed Mortal: A Drama for Wellcome Collection.
You can find a video about the making of Mortal by clicking on this link http://www.wellcomecollection.org/visit-us/schools-and-youth-groups.aspx
Developed the flagship youth arts centre Roundhouse Studios as Director 2001-8; established Tower Hamlets Summer University, the  brand leader for summer learning for 12-25 year olds, as Director 1996-2001. Directed theatre in the UK, India, Pakistan and Bangladesh.  Awarded a Queen's Golden Jubilee Award 2002 by London Borough of Tower Hamlets for an " exceptional contribution to youth and culture in the borough."
Chair of Board, The Arts Catalyst Board member Kinetika Carnival Arts Design; Fellow of the Royal Society of the Arts; Performance Coach accredited through Clore Leadership Programme.
Working with Elizabeth has been both a rewarding and growth inspiring experience. Her knowledge in the creative world and advice on performance and material has been helpful beyond measure. Victoria Simms, young poet, Evolving Words 2009-12