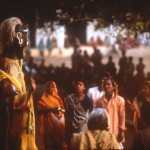 I present/chair panels at conferences/seminars UK and internationally, recently in London, Margate, Essen, Amsterdam, Cape Town, Seoul and Bilbao.
I have worked in India and Pakistan as a visiting theatre director for Naya Theatre and Ajoka Theatre. In 1983, 1985 and 1989, this work was supported with awards from British Council, Arts Council of Great Britain, Commonwealth Secretariat and the Ford Foundation.
In 2005 I organised a youth theatre co-production between Roundhouse, National Theatre and Schaubuhne Theatre, Berlin.
In 1993 with A Team Arts, I produced Lost in Translation, a play about refugees by David Gale, directed by Hilary Westlake to schools and theatres in Berlin. This was part of the Youth into Europe programme.